I have an announcement to make! As of today, I am the proud owner of an official storefront! Aptly named She's A Hot Mess Gifts & More. It has been a long time coming, and I am really excited for the next leg of this adventure! So, what am I selling? I'm so glad you asked!
Hot Mess Gifts & More  Shop at ShopEnvy
If you thought that I would name my new storefront anything other than the Hot Mess Gifts & More, you are cray cray! (for all you moms who are not hip… that means crazy!) The official name is She's A Hot Mess Gifts & More.
Right now, if you were to head that direction, you will only find a few listings. My beautiful rain chain, those adorable rustic kitchen magnets I showed you how to make, and my lovely teacher's gifts, the old book planters. That is the line up for physical products. I also have added an adorable unicorn name printable, and an adventure pack of wall prints!
The Future Of She's A Hot Mess
So cliche, I know, but my future is looking bright! I have felt for some time now that I was right on the edge of great things but in the dark. Now, it's as if the lights have been turned on! Between this little slice of my true self and Hot Mess Gifts & More, I have a feeling that things are only going to get better from here!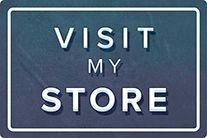 Soon, everything that is in the resource library will be customizable in my shop as well! That means you can download and print them for free still, and fill them out by hand, or, you can have me personalize them, filling in all the details for you! (talk about a time saver too, I will have them ready no more than 24 hours after you place your order!)
In The Mood To Shop?
She's A Hot Mess Gifts & More will be taking custom orders in the very near future. In the meantime, you should sign up for updates on special sales and preorder sales for holiday orders! Just enter your email below and you are all set! And, my promise to you:
I pinky promise, that I will NEVER misuse your trust in any way. I appreciate the fact that you want updates from me and take that responsibility VERY seriously. I will never sell or give away ANY of your information. EVER. And, I REALLY hate spam, so none of that either. <3
Hey, if you liked what you saw in my shop, will you give me a little share? Maybe your friends will like it too!!
Until next time
Marlene
While you are still here, why not check the free goodies out: