Do you ever look at an item and think " I know I could improve that/ make that look better/ make that into something delightful!"? That is what happened to a gifted old guitar that was given to the kids. Neither has really any interest in learning to play and often only pulled it out to be irritating when it needed to be quiet. So one day, I looked at it and thought, that can be the coolest planter ever, with a few slight (big) improvements and changes. And so, that is how an upcycled guitar was born.
As soon as I had the project in my head, nothing was going to dissuade me from finishing it. Sometimes, I tend to start a challenging project, and half way thru I stop. Never to return to it again. But I was inspired, and I had the perfect recipient in mind for the upcycled guitar planter: my favorite teacher from the kid's school was leaving and this would be the PERFECT gift, as he was a music teacher/art teacher.
I hope my steps below inspire you to find something that is junk and turn it into something absolutely wonderful and useful again.
Sanding Down Your Guitar
Before you put that paper to the beautiful (or maybe not so… yet) varnish, consider the look you are wanting to achieve. If you can, remove all the parts that you can and place them in a bag for later. This includes the strings.
Medium grit sandpaper should do the trick. Don't worry about removing all of the finish, but do make sure you sand enough that it will give the paint you will apply in a few steps.
Clean the dust
Using a damp cloth (read: NOT SOAKED) wipe down the guitar thoroughly. Make sure all of the dust is removed. This will ensure your paint will stick without any residue under. Check that you are satisfied with the removal of the varnish. If not, repeat steps 1 & 2 until you are satisfied.
Selecting and Painting your Upcycled guitar
Originally, I planned to use chalk paint. But… I am totally intimidated by the process, and to be honest, I do not want to test a new method on someone's gift. Acrylic paint by Plaid company in antique parchment suited my needs and budget. (local Walmart for $.50 a bottle)
PRO TIP

Take this advice, don't use a bristle brush for this project. Instead, use a foam brush or mini roller. Brush marks are no fun to try to hide, and you will use a lot more paint with a brush.
Apply lightly and allow to dry. Paint several layers on all of the sanded parts.
Adding A Watercolor Effect with Acrylic Paint
A flat color might be ok for some folks. But I tend to love color and hints of something more. I scoured the internet (read: mostly Pinterest) to find a new way to add a touch of color without overwhelming the entire piece. I found a drip tutorial here and decided to add my own flair. Follow my steps for a rustic finish of water down paints.
Select your paint. I chose basic craft paint in antique parchment for the base. The layer colors are teal deep brown and metallic gold. After you have selected the paint colors, uncap and fill the cap with water. Add one drop of paint to each cap and mix well.
Using a wet brush, dip your paintbrush into one color. Firmly press the tip to your upcycled guitar. You will notice the paint running down and dripping. Continue this process until you are satisfied with the color.
Finish off the paint process with 2 layers of acrylic sealant. This will protect your paint from flaking and chipping.
PRO TIP:

Allow each color to dry before adding the next layer. If the paint is still fully wet, it will mix with the other colors and turn muddy.
Make A Grow Bag
I had some weed blocker fabric sitting on the porch that was not being used. This fabric is a mesh plastic but is perfect for holding in the dirt and baby plants we are going to add next. To make a bag, simply cut off enough fabric to make a pocket. Secure the edges of the fabric on 2 sides with E6000 glue. After the glue has dried, turn your bag inside out so that the seams are inside. Fold the top down to clean up the edges a bit.
Putting An Upcycled Guitar Back Together
With no musical background, I have no idea what I am doing when putting this thing back together. It's pretty straightforward as long as you saved the parts when you took it apart. I opted to only use 3 of the 5 strings, to keep it simple and help hold the plants in the grow bag.
PRO TIP:

Add a tiny bit of dirt to the bottom of the grow bag before putting it into your repurposed upcycled guitar. This will help weight it enough to pull it down and not bunch up in the center.
I did things a little backward and you can take advantage of that. Put together the upcycled guitar parts EXCEPT for the strings. After you have done all that, now it is time to plant. (My favorite part)
Lay your upcycled project at an angle. Select your plants (I adore succulents, as you know, and they are perfect for our guitar) and plant tightly together. Succulents, especially the hen and chicks variety love to be cramped and grow quite well. At the very end, leave a little room at the top to water.
Now you can restring your guitar. I used one string to hold the left side and one on the right to hold that side. And the third will go straight up the middle to help things stay.
PRO TIP:

Do not tighten the strings tight at all. Just enough to hold the plants, but not so tight that it cuts the delicate leaves. Rather, a happy medium of the both.
Give The Repurposed Gift of an Upcycled Guitar
I had so much fun making this repurposed guitar. And even more, I loved giving it. I truly hope this has inspired you to create your own upcycled project. Don't forget, that you do not need a guitar to complete this project. A violin cello or fiddle would work as well. (I would love to do one of these 🙂 )
If you found this inspiring and made something similar, I would love to see it. Share your work in the comments or email me directly! (That is my favorite part of my job, getting emails from readers who have been inspired enough to make their own version of a project and then sharing it with me!)
Want to commission me to make a one of a kind piece? Get in touch so we can chat!
The Future Of She's A Hot Mess
This little blog has changed so much in one years time. I now have a hot mess gift shop, and I would love to invite you to shop around. Right now I am featuring beautiful rain chains, clothespin wreaths, and mini succulent garden planters. Also offered are some pretty fancy personalized invites and party decor. Stop by and say hi, and if you are looking for the perfect gift for that special someone who also happens to love the garden, be sure to grab a rain chain for them! I hope to see you there soon!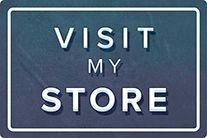 Until next time
Marlene
If you liked this, you will love these: